---
Hog Town Hep Cats
Swing
Jazz
Dance Music
Guidelines
for musicians and DJ's


---
Comments from musicians or dancers are warmly welcomed.
Please contact Peter Renzland Toronto (416) 323-1300 Peter@Dancing.Org
"Dancing is very important to people who play music with a beat. I think that people who don't dance, or who never did dance, don't really understand the beat. ... I know musicians who don't and never did dance, and they have difficulty communicating." -- Duke Ellington, The World of Duke Ellington
"It is the repetition and monotony of the present Swing arrangements which bode ill for the future. Once again it is proven that when the artistic point of view gains commercial standing, artistry itself bows out, leaving inspiration to die a slow death." -- Duke Ellington, Downbeat, Feb. 1939
We truly appreciate and support good live traditional jazz dancing music. When dancing, we improvise and syncopate, in harmony with our partners and the musicians.

The music we like is Swing. By that we mean Jazz from the Swing Era. The Lindy Hop is a solid, flowing, sensual Jazz dance that evolved with the Afro-American Jazz music of the late 20's and 30's.
Our dance is exuberant, playful, sensuous, and joyful. Just like the Swing Jazz dancing music of the 30's. When we say Jazz, we think of the hot and sensuous Jazz of the Jazz age, and the playful and exuberant Jazz of the Swing Era. We want music that has life and spirit, and pulse, and passion. Like the music of Armstrong, Calloway, Waller. Crisp and solid, like Basie, Hampton and Lunceford. We don't want music that leaves us with our mouth open or our eyes closed. We want music that makes us dance, and play, and feel that we are in the music and it is in us. There is a flavour of mellowness, nostalgia, and bittersweet sadness in the slow lounge Jazz songs of the late 40's. We can't dance to that. We want the sensuous solid, earthy flavour of, say, Bessie Smith. "Gimme a pig foot" or "I need a little sugar" not "Willow weep for Me"
We like early, swinging jazz music. We don't like late 40's pale, mellow easy listening big band orchestrations, such as American Patrol, Don't sit under the Apple Tree, or PEnnsylvania 6-5000.
Not Jump Jive, not R&B, not R'N'R, not Rockabilly, and not post-WWII mellow lounge-listening music. Those are perfectly fine musical genres, but they simply don't match our dance -- Lindy Hop. Some Jump Blues. ("In the Mood" is an example of Jump Blues). A lot of "Neo Swing" is really Jump Blues. Most is Rock or Ska or Punk with horns. Hard and fast and loud. We have no use for that. We want Jazz music that swings, with a solid rhythm that reaches out to the dancers.
(There are other dancers who will happily dance their "swing" to any kind of music, including C&W, disco, and latin. Not us.)
We like a variety of tempos. Our core range is 120-180 bpm. We like to warm up and cool down. We don't like breakneck tempos at the outset, nor at the end. If you play something slower than 105 bpm or faster than 195 bpm, it had better be outrageously good -- very few people can dance faster than FAST or want to dance slower than SLOW (see below), and unless the music is outstanding, it's a real chore to dance outside that range.
---


tempo:                 -    SLOW  MEDIUM  FAST     +
tempo (bpm):       75    105    135    165    195    225
songs per set:        0-2    3-5    2-3    1-2    0-1

A typical sequence might be:

M  S  F  M  -  M  +  S  M  S  *

(* means something unusual -- a Waltz, Polka, Ragtime, or whatever)


Speaking of tempo -- I know that many musicians don't relate well to bpm. Recently I asked rhythm-section musicians to estimate the tempos played by bands they were listening to. They were off by as much as 100%. So, here is an intuitive illustration of tempo. Suppose you take a step on every beat. Normal walking tempo is 120 bpm (SLOW). If you're walking really fast, so that you could also run at the same speed, that's 150 bpm (MEDIUM). If you're really running, but not running for your life, that's 180 bpm (FAST). Running for your life is above 200 bpm!
---
We like a variety of rhythms and flavours. Medium, slow, fast, and evrerywhere in between. Why play two fast tunes in a row? Or two slow ones? Or several 48-bar ones?
We like music with solid, predictable lines, breaks, and endings. We like to think we're on the same team as the musicians. Non-dancing (post-Swing-Era) Jazz often feels like it takes off a lot, but then doesn't go anywhere, and if it lands at all, it's not a solid landing. The endings especially often just fizzle out. Or else, the music just drops dead without any warning -- no feeling of finality.
At the end of a set, especially the last, we like a waltz, or something else that's special - perhaps a polka, or a Ragtime tune. We love swinging waltzes. Waltz tempo: 42-52 mpm. (125-160 bpm) (Jitterbug Waltz is a good one. Over the Waves is another.)
We like to hear the instruments. Please don't overamplify. We like (non-electric) bass, piano, horn. We don't like mechanistic, overbearing drummers.
We want you to play, so that we can play together. We like music that's solid, in the pocket. Music that breathes. Flavour.
DJ's:
We absolutely detest medleys. Imagine all your favourite dishes and desserts prepared properly, then chopped up in a blender, then baked, boiled, broiled, steamed and grilled. Then shoved in your face -- "there this is what you like, right?!"
We don't like merging songs together. We like endings. We also like beginnings. They are an important part of the character of a song. Like appetiser and dessert. Please don't take them from us.
DJ's please note -- not all songs are created equal. please don't think that music genres are generic, and any song of "the same type" is as good as what was specifically requested. This holds true especially for experts in dance/music of type A who are asked to play a particular song of music of type B. In particular, to a Jive dancer, R'N'R music may sound just like Swing Era Jazz music, but not to a Lindy Hopper. Big Band music compiled for Ballroom dancers will not be appreciated by Lindy Hoppers. Similarly, Ballroom dancers would not be thrilled with Basie, Lunceford, Hampton, Waller, or Webb. This is about taste and culture.
People who don't dance, including DJ's, often think that fast, hard-driving music is energetic and danceable. The opposite is true. It can be draining and monotonous to dance to. Ears and fingers can dance much faster than entire bodies.
We like music that we can play with, rather than music that makes us run a rat race. Post-1945 Jazz often sounds busy and unsettling, which makes it quite unsuitable for dancing.
Music that is hard, fast, and loud is great for stamping your feet, and clapping your hands. Swing music is about a strong flow, not about a strong beat. One is good for dancing together harmoniously. The other encourages jerkiness and tension between the dancers. Swing *dancing* music is simple and solid. It has an uncluttered texture, it breathes and rests, and it has flavour.
It's possible to play the right song at the right tempo, but to make it sound like listening music for the mind, rather than dancing music for the body and soul. Or to make it sound like a Rockabilly song, even though it was originally a swing song. Don't rock hard! Swing easy. Swing smooth. Swing lightly. Listen to Setzer screach out "Swingin' on Nothin'", and then listen to a Swing band swing it. ... It's not about repertoire. It's about style. "It ain't what 'cha do it's the way that 'cha do it!" Swing low ...
Some folks think that to swing means to sound like a sequencer, set to "swing". If it's mechanistically regular like that, then by the very meaning of the essence of "swing", it doesn't. It just sounds boring and contrived.
Some folks think that only the rhythm section is responsible for making a band swing. In a good swing jazz dance band, the whole band swings. Here's a story:
"In April 1941 Gene Krupa played a battle of the bands with Jimmie Lunceford in Baltimore. "It was no fight at all - we lost terribly, it was rout", recalls trumpeter Graham Young. "They pulled one thing in the first set. They started the last number and I remember the first guy to quit was the drummer, but the dancers kept on cooking as if they had one. Then, pretty soon afterwards, the bass player left, then the guitar and the piano, and they were swinging like crazy without a rhythm section at all - thus proving they were just using a rhythm section for sound, they weren't leaning on it".
Christian Batchelor: "This Thing Called Swing" p. 239
Musicians that we like:


louis armstrong 
count basie 
duke ellington
jimmie lunceford 
fats waller 
chick webb 
erskine hawkins 
roy eldridge 
lucky millinder 
benny goodman
lionel hampton
les brown 
buddy johnson 
cab calloway 
slim & slam

Contemporary Bands:

Mora's Modern Rhythmists, Bill Elliott, Eddie Reed, Big Time Operator,
Cotton Club Orchestra, George Gee, Count Basie, Yalloping Hounds.
Jenny Lobel & Swing Kings,

 Some examples of tunes: 

BPM Length Musician(s) Title

100 3:15 Cab Calloway: minnie the moocher   
111 3:12 Lionel Hampton: on the sunny side  
112 3:40 Lucky Millinder: is you is or is you
128 3:06 Chick Webb: i want the waiter with the
128 3:19 Louis Armstrong: keepin out of mischief  
128 5:11 Count Basie: easy does it   
128 3:19 Maxine Sullivan: aint misbehavin    
130 3:11 Fats Waller: i'm gonna sit right down and
134 3:08 Benny Moten: i wish i could be blue

138 5:19 Count Basie: shiny stockings    
150 3:16 Erskine Hawkins: tuxedo junction    
150 3:08 Maxine Sullivan: stomping at the savoy  
153 4:35 Louis Armstrong: aint misbehavin    
155 2:37 Fats Waller: honeysuckle rose    
155 3:02 Anita O'Day / Roy Eldridge: let me off
160 2:52 Chick Webb / Ella: got a pebble in
164 3:03 Jimmie Lunceford: it aint what you do 
165 3:02 Lucky Millinder: savoy     
         
168 4:21 Fats Waller: moppin' and boppin'   
172 3:00 Chick Webb / Ella: chew chew chew chew
172 3:04 Larry Clinton: the dipsy doodle   
176 3:11 Lionel Hampton: it dont mean a thing 
180 4:24 Count Basie: flat foot floogie   
184 2:00 Les Brown: leap frog    

 Example set sequences: 

142 3:17 Buddy Johnson: swing along with me 
128 3:22 Louis Armstrong: keepin out of mischief 
155 3:06 Anita O'Day / Roy Eldridge: let me off uptown 
165 3:05 Lucky Millinder: savoy 
150 3:19 Erskine Hawkins: tuxedo junction 
102 2:41 Louis Jordan / Chris Barber: jazz lips 
158 4:01 Benny Goodman: bei mir bist du schoen 
172 3:05 Larry Clinton: the dipsy doodle 
120 5:01 Ernestine Anderson: i love being here with you 
164 3:07 Jimmie Lunceford: it aint what you do 
193 3:14 Lionel Hampton: flying home 
138 3:20 Louis Jordan: wish i could shimmy like my sister Kate 
160 2:56 Chick Webb / Ella: got a pebble in my shoe 
248 2:40 Original Dixieland Jazz Band: Tiger Rag (Charleston) 
 
134 3:14 Benny Moten: i wish i could be blue 
164 2:58 Helen Ward: i'll never say never again again 
128 5:14 Count Basie: easy does it 
150 3:08 Maxine Sullivan: Stompin at the savoy 
105 3:30 Bessie Smith: gimme a pigfoot 
168 4:27 Fats Waller: moppin' and boppin' 
147 3:09 Tommy Dorsey: Boogie Woogie 
119 3:26 Louis Armstrong: you're next 
192 2:50 Cab Calloway: Jumpin Jive 
129 3:23 Louis Jordan: is you is or is you aint my baby 
184 2:00 Les Brown: leap frog 
123 3:08 Scott Cushnie: st louis blues 
170 3:04 Count Basie: One o'clock jump 
155 2:41 Fats Waller: honeysuckle rose 
165 1:50 Dinah Washington: Jitterbug Waltz 


---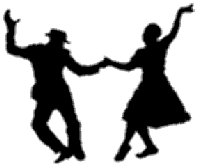 ---
Dancing.Org Peter Renzland Toronto (416) 323-1300 Peter@Dancing.Org